Next's appeal against Sheffield store refusal heard at inquiry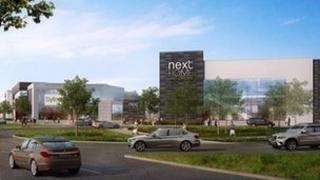 A public inquiry has been held into a decision to refuse planning permission for an out-of-town Next store in Sheffield.
The retail giant wanted to build a £10m home and garden shop near the Meadowhall shopping centre, but the council rejected the plans last year.
It said the development went against planning policy and would have a negative impact on the city centre.
The Planning Inspectorate said a decision would be made by early autumn.
After Next was refused planning permission, its chief executive Lord Wolfson said Sheffield City Council was "misguided".
The company has appealed on the grounds that the type of store they have proposed, selling fitted kitchens and do-it-yourself goods, would not be suitable for a city centre location, and that it would be well integrated into the surrounding area.
The public inquiry was held at Sheffield Town Hall and lasted four days.