Second man dies after car crashes into Barnsley house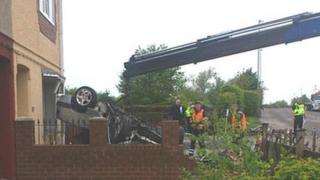 A second man has died after being injured when the car he was travelling in crashed into a house in Barnsley.
The 25-year-old man was injured in the incident on Engine Lane, Shafton, at about 03:15 BST on Sunday.
He was taken for treatment at Barnsley District Hospital where he died three days later.
Another occupant of the car, Josh Powell, 18, of Park Avenue in Grimethorpe, died at the scene.
'Death felt deeply'
South Yorkshire Police said it was unclear who was driving the car at the time of the crash, but the two men were believed to have been the sole occupants.
Police believe the car, a silver Peugeot 306 convertible, was speeding when it hit a street lamp and smashed through the garden into the front of a house causing extensive damage.
Meanwhile, tributes have been paid to Mr Powell who had served with the Norfolk-based Light Dragoons since joining the Army in September 2011.
Commanding officer of the Light Dragoons, Lt Col Sam Plant, said Trooper Powell had "demonstrated real potential" as a soldier.
"He was engaging, enthusiastic and eager to learn. Equally, he was quick to establish a network of close friends and it was clear to me he was a real team player.
"His death is felt deeply across the length and breadth of the regimental family, but our pain is nothing compared to that of his family."
Anyone with information about the crash is being asked to contact police.