Josh Powell killed when car crashes into Barnsley house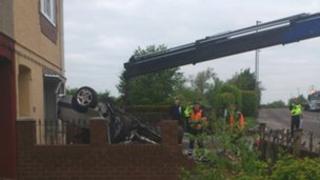 A teenager has died and another man has been critically injured after a car crashed into a house in Barnsley.
Police believe the car was speeding when it hit a street lamp and smashed through the garden into the front of a house on Engine Lane.
Josh Powell, 18, of Park Avenue, Grimethorpe, died at the scene. A 25-year-old man is in hospital.
The pair were travelling in a Peugeot convertible when the crash happened at about 03:15 BST, police said.
The crash caused extensive damage to a boundary wall and the front of the house in the Shafton area of the town.
The 25-year-old is being treated at Barnsley Hospital for "life-threatening injuries".
In a statement, South Yorkshire Police said: "Officers believe the car was travelling in excess of the speed limit when it left the road.
"It is not known at this time who was driving but the two men are understood to have been the only occupants."
Anyone with information is being asked to contact police.