Work to replace worn-out Sheffield tram tracks to start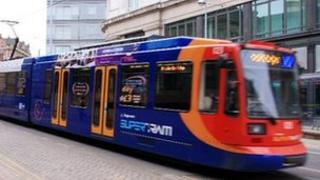 Work to replace about 14 miles (22km) of worn out tram tracks in Sheffield is to start in the summer.
Tram network owner South Yorkshire Passenger Transport Executive (SYPTE) said large sections of rail were close to being "life-expired".
SYPTE and operator Stagecoach Supertram are funding the £32m project.
A bus service will replace trams when the first phase of work starts on the track between Spring Lane and Park Grange Croft in late June.
SYPTE said measures taken by engineers had already extended the lifetime of the track by up to five years.
But, it said, despite that about 14 miles needed the rail replacing by 2024.
Contingency plans
The new rails, which are made from harder wearing steel, have a life expectancy of 25 to 30 years.
David Young, from SYPTE, said: "When the tram system was installed in 1994, it was widely expected at the time that the rail would have a 30-year lifespan.
"However, over the past two years it has become clear that this replacement work needs to be carried out sooner rather than later to ensure the people of Sheffield and the wider region have a robust and reliable tram network in the future."
Margaret Kay, Supertram managing director, said detailed information would be provided about the work and contingency arrangements put in place.