Solar Centre families' long wait for justice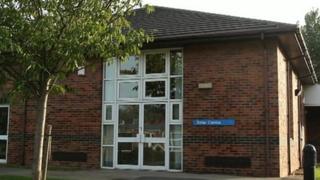 Severely disabled patients who suffered physical and verbal abuse at a day-care centre had to wait for more than six years for justice, their relatives and campaigners have said.
Susan Murphy, 44, James Hinds, 59, have been found guilty of mistreating vulnerable adults at the Solar Centre at St Catherine's Hospital, Doncaster. Both were warned they face prison sentences.
Six years after the mistreatment of patients was brought to light, campaigners are now calling for an inquiry into why it took so long to secure any convictions.
Many of the patients attending the centre had a range of physical disabilities including blindness.
'Shadow of society'
The jury was told some were slapped and punched, while others were pulled out of wheelchairs or thrown into ball pools.
Police were called after one staff member decided to leave in March 2007 and made formal allegations about the mistreatment of patients.
The family of one of those abused, Richie Rowe, has described him as "a shadow of society, someone with no voice and very little presence".
His stepfather Adrian Milne said: "This has been reflected in the justice he has received: a shadow of what he should be entitled to."
Campaigners calls for an inquiry are backed by the Disability News Service (DNS), an organisation dedicated to highlighting discrimination and promoting equality and independent living for people with disabilities.
'Insufficient evidence'
The DNS and the victims' families are demanding answers to key questions about "the system's willingness and ability to protect adults with learning difficulties from abuse".
The families' questions include "why both police and Crown prosecutors twice failed to launch a proper, in-depth investigation into the Solar Centre abuse" and claims that "repeated warnings to the health trust by members of staff were not treated seriously".
"The failures are symptomatic of the criminal justice system's continuing failure to treat seriously both disability hate crime and the abuse of people with learning difficulties in institutional care," campaigners claim.
In July 2010 Det Ch Insp Matt Fenwick of South Yorkshire Police said: "In 2007 police conducted a full investigation into allegations that staff members were physically assaulting patients at the centre.
"Advice was sought from the Crown Prosecution Service and it was decided that there was insufficient evidence to present the allegations to the court."
The Crown Prosecution Service admitted it should have brought the case to court sooner.
Martin Goldman, Chief Crown Prosecutor in Yorkshire and Humberside, said some users of the centre "were subjected to humiliation, abuse and ill treatment due to their vulnerability".
He added: "We acknowledge that this conviction has taken some time to secure and I pay tribute to the fortitude of the victims and their families."
'Future is bleak'
Mr Milne said the victims and their families were not satisfied with the way they had been dealt with by the authorities.
"As parents and carers we feel disconnected and isolated from the world, despite the legislation that is in place, and the claims of police, CPS and the NHS that offences against those who find themselves in the most vulnerable of situations will be treated seriously and acted upon.
"Our experience is that the absolute minimum is done, with mistakes and apologies in abundance along the way, and a notable lack of explanation or accountability.
"All Richie has ever asked is that the people involved in his care and protection act in his best interests and do their job. But the trust, the police and the CPS all failed him totally.
"For Richie, the future is bleak - he is damaged and only feels secure around those who truly love him.
"Even now the challenging behaviour he sometimes presents is ascribed to his impairment rather than the abuse he has lived through.
"He has now become the perpetrator and not the victim.
"How quickly we try to forget the truth and blame someone with no voice."
The Crown Prosecution Service (CPS) added: ""We do understand Mr Milne's concern; indeed, in a speech in 2011, the Director of Public Prosecutions acknowledged that prosecutors were still "in the foothills" when it comes to prosecuting disability hate crime".
The CPS said it was producing a disability hate crime action plan later in the year.
'Throw open the doors'
Katharine Quarmby, author of Scapegoat: why we are failing disabled people, has backed calls for an inquiry.
She said: "But it [the case] is a warning to all of us, as some councils attempt to reintroduce closed care for disabled people, that the safest and most dignified place for disabled people to be is living independently in society, as equal citizens, not shut away behind closed doors.
"Closed doors encourage abuse and violence, as we have found not only in a succession of scandals affecting disabled people, but also children and older people.
"We must throw open the doors of our society and provide care and support within the community, not shut away from it."
Murphy was found guilty of 15 counts of abuse while Hinds was convicted of 10 counts of abuse in their trial at Sheffield Crown Court. Both had denied the charges.
Care assistant, Julie Burge, 48, was cleared of all charges she faced, and physiotherapy assistant Michael Barnard was also acquitted of all charges.