Stocksbridge campaigners deny occupation attempt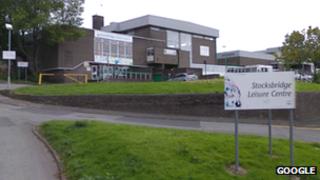 A group fighting the closure of a leisure centre has said it was not responsible for an attempt to occupy the building on Friday.
Stocksbridge Leisure Centre closed at 22:00 BST as part of Sheffield City Council's £50m cuts programme.
Police and security guards managed to prevent a small group of protestors from remaining in the building.
Campaign group 4SLC failed to get an injunction to prevent the closure going-ahead last month.
Faye Howard, from 4SLC, said: "We have no idea who was responsible. It is nothing that the 4SLC committee have organised. The depth of feeling though is quite strong in Stocksbridge."
A judicial review of the council's decision to stop funding the mothballed centre is to be held in June.