Horse rescued from drowning in Barnsley pond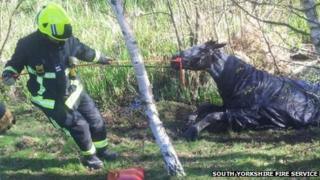 The owner of a horse has thanked firefighters for saving it from drowning in a pond in Barnsley.
The three-year-old, called Mungo, was pulled free using a rope attached to its collar after it became stranded with its head just above the water.
Mungo became stuck while trying to drink from the pond in Willow Lane, Honeywell, at 08:00 BST, said South Yorkshire Fire and Rescue Service.
Owner Vanda Ramsden said firefighters had "saved Mungo's life".
"He would not have been able to get out himself, and his head was only just above the water when we found him," said Ms Ramsden.