Barnsley town hall's new steel sculpture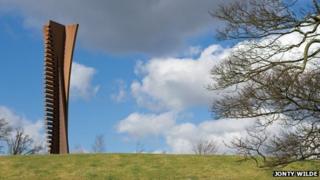 A 5.7 tonne sculpture is to be moved about 6 miles (10km) to Barnsley town hall as part of new public garden.
The artwork, by Nigel Hall, is called Crossing (Vertical) and has been loaned by Yorkshire Sculpture Park (YSP) for the new community gardens in Barnsley.
The 33 ft (10m) high work will be positioned in the landscaped area next month, according to Barnsley Council.
Made of steel and created in 2006 it was first placed at a sculpture park in March 2008.
The steel 'weathers' to form a rust-like patina when exposed to the air.
Mr Hall has created many works for the open air since the late 1980s and has been commissioned to make sculpture by institutions around the world said the council.
Councillor Roy Miller said: "I believe this and similar projects will lift Barnsley town centre."
The YSP, the first of its kind in the UK and the biggest in Europe, opened in 1977. It covers 500 acres and now attracts about 300,000 visitors a year.
The sculpture park is a few miles north of Barnsley.