Rotherham United fans' pub landlord jet 'fraud' probed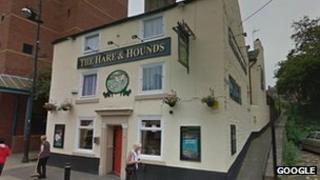 A pub landlord has "gone missing" after collecting more than £16,500 from football fans to pay for a private jet to take them to an away game.
Rotherham United supporters had planned to travel to their team's League Two game against Plymouth on Saturday on a plane chartered by Lee Mills.
But Mr Mills, landlord of the Hare and Hounds in Rotherham, went missing on Monday, said the pub owners.
South Yorkshire Police said they were investigating allegations of fraud.
The club and Punch Taverns have now agreed to fund the fans' transport to the match.
At nearly 600 miles, the round trip to Plymouth is Rotherham's longest away journey of the season.
Seats on the plane were being sold for £240. More than 70 fans are understood to have paid for places.
Rob Dore, owner of Private Jet Hire, said Mr Mills had made an enquiry with the firm to charter a plane from Doncaster Robin Hood Airport to Exeter but no booking was taken.
'Ashamed and humiliated'
Police have asked affected supporters to contact them.
One 40-year-old supporter, who asked not to be named, said he had paid £480 for two tickets for himself and his son.
He said: "It's a lot of money but it's not so much the money, it's the principle of the thing."
Fellow fan Neil Evans said: "A lot of people are distraught, they have lost their money, but they still want to go to the game."
A spokeswoman for Punch Taverns, which owns the freehold for the Hare and Hounds, said Mr Mills had "walked out of the pub without notice" on Monday.
She said the company and Rotherham United had arranged coach travel for about 70 fans to and from Plymouth and would provide food and refreshments at the pub before leaving.
A post on Rotherham United fan page MillersMAD, purporting to be from Mr Mills, said he was "embarrassed, ashamed and humiliated" by the collapse of the planned flight and promised to compensate those affected.
A police spokeswoman said: "South Yorkshire Police have been made aware of allegations of fraud in relation to a booking for a number of Rotherham United supporters to fly to Plymouth on Saturday, 20 April, for the last away game of the season."