Sheffield hosts National Union of Students conference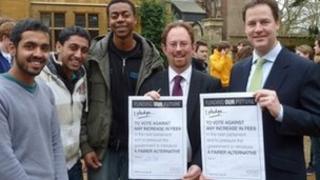 More than 1,000 delegates have arrived in Sheffield to take part in the National Union of Students (NUS) annual conference.
The three-day event will see student representatives take part in debates and vote for a new national leadership.
The NUS will also be helping students register to vote as part of a campaign against increased tuition fees.
The city contains the constituency of Deputy Prime Minister Nick Clegg who was criticised for supporting the move.
In a party political broadcast last year, Mr Clegg said sorry that the Liberal Democrats "did not stick" to their pre-election promise not to increase fees.
Danielle Grufferty, NUS vice-president, said students would be talking to locals about education and other issues and helping them to fill out voter registration forms if they were not already registered.
The forms will be collected by the NUS and passed to local electoral registration officials.
Ms Grufferty said: "We want to help get record numbers of people registered to vote in 2015 by bringing students and communities together and our campaign begins here in Sheffield today."
"Students, none more so than those in Sheffield, were let down badly by politicians at the last election.
"It's important that communities join together to hold politicians to account at the next general election."
The Lib Dems claimed the party had made "the system of student finance as fair as possible".
A statement issued by Nick Clegg's office said: "Graduates won't start repaying their loan until they earn over £21,000, all graduates will repay less per month compared to the old system and the poorest 30% of graduates will pay back less overall."
Sheffield hosted the conference last year, and the NUS claimed it brought £2m to the local economy.