Rotherham burglar who left explosive device at house is jailed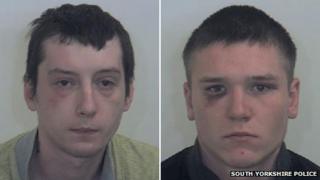 A burglar who attacked two men before leaving a homemade explosive at their house has been jailed for six years.
Charles Marshall, 24, of Bramley, was sentenced at Sheffield Crown Court for charges including possession of an explosive device and affray.
Another man, 18-year-old Joseph Marshall, from Sunnyside, was sentenced to four-and-a-half years for aggravated burglary, wounding and affray.
The pair pleaded guilty at a hearing in December.
South Yorkshire Police said the victims were seriously injured when the two men attacked them at a house in Wickersley, Rotherham in November 2011.
Officers found an "improvised explosive device" at the scene, which led to the evacuation of nearby properties until army bomb disposal experts made it safe.
Det Con Tony Fitzwilliam said: "This was a vicious deliberate attack which has had a profound impact upon the victims.
"Army explosive ordnance disposal officers and the detective responding to the incident are to be congratulated for their bravery and response in dealing with the explosive device left at the scene by the offenders."