Maltby deep coal mine set to close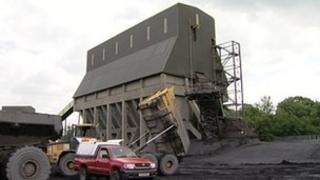 A deep coal pit in South Yorkshire which employs more than 400 staff is to finally shut later.
Hargreaves Services said Maltby Colliery, near Rotherham, was no longer viable on safety, geological and financial grounds.
About 250 people will lose their jobs when the pit closes, with 150 redeployed, a union spokesman said.
The company has previously said it is "committed to exploring alternative employment opportunities for staff".
The pit produced coal for more than 100 years.
Nick Harris, a miner and union official from the National Union of Mineworkers (NUM), said: "I'm devastated it's over.
Parade to be held
"We were trying to come up with plans to save it but we were too short of money. So I'm gutted."
About 150 employees have been redeployed and the company is continuing to seek alternative opportunities for the remaining staff, Mr Harris added.
"Daw Mill Colliery in Warwickshire has had to shut after it suffered a huge fire last month, that's been a huge blow for staff. It's lessened the job opportunities for staff here at Maltby," he said.
Work to seal off the mine is due to start later and is expected to be completed in 10 weeks.
A parade has been organised by staff to be held on 6 April to mark the colliery's closure. Miners will march from the pit to a nearby cemetery where a lump of coal will be buried and two wreathes laid.