Rotherham NHS Trust IT failure delays cancer treatment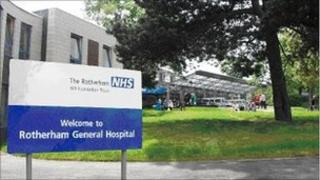 Failures in a new appointment system could have delayed treatment for cancer patients at a troubled health trust, according to a health watchdog.
Problems have led to 5,000 missed outpatient appointments and lost Rotherham NHS Foundation Trust £1.4m.
The electronic patient record system could now cost £40m, said NHS regulator Monitor.
The trust said an immediate review had been ordered and an independent expert engaged to resolve the issues.
Monitor said failings in the appointment system "seriously compromises the ability of the trust to manage quality of care" because it could place only "limited reliance" on operational data.
The watchdog said the trust had not managed the system in an effective way and could not tell if any patients had been harmed.
'Human cost'
Problems with the system meant the 62-day target between cancer patients being diagnosed and receiving their first treatment had been missed, and 5,000 outpatient appointments were also lost between June and August, Monitor said.
Sarah Champion, Labour MP for Rotherham, said: "I think it's just horrifying that cancer patients are being denied treatment because of an IT malfunction.
"I've had people come to my surgeries who have been unable to get in touch with the hospital just because this record system has failed.
"The financial side is atrocious but we need to look at the human cost."
Each missed appointment reduced the hospital's income.
The trust was also asked by the watchdog to resolve the problems with the appointment system and give a clear timetable so that progress could be tracked.
The original budget for the system was £30m.
Urgent action
It was developed to treat patients more effectively and give healthcare staff easier access to up-to-date patient information, according to the trust
A trust statement said it had taken on an independent "external electronic patient record expert" for up to three months.
"His job will be to review and resolve the issues causing the situation from an independent standpoint," it said.
The problem is the latest in a series for the trust.
It was told to take urgent action to improve its finances by Monitor earlier this month as it faced a £38m deficit by 2015-16.