Older people in Barnsley face cuts to services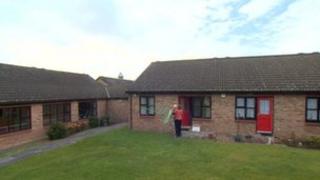 Budget cuts could mean residents of sheltered accommodation in Barnsley will no longer have wardens on-site.
Barnsley Council is reducing its supporting people budget by 40% from April as it tries to save £18.7m in 2013/14.
Yorkshire Housing, which provides the warden service, said it would "look at all of the options".
Consultation meetings will be held at three sheltered housing complexes on Monday.
Park Court in Thurnscoe, Chestnut Court on Hornby Street and St Edwins Croft in Athersley currently have on-site wardens provided by Yorkshire Housing and funded by Barnsley Council.
'Straight away'
The wardens provide day-to-day help and support.
But residents have been sent letters informing them of "important changes" to the services delivered.
Rose Evans, 86, lives at Park Court and said she felt reassured by the presence of an on-site warden: "I know when I press (my alarm) she'll be here straight away."
Celia Cashman, director of housing services at Yorkshire Housing, said: "We know residents will be worried and we will be looking at all of the options over the next few weeks, should Barnsley make a cut to the warden services."
In a statement, Barnsley Council said: "The supporting people budget which funds sheltered schemes is being reduced by 40%, and services for all client groups will be affected, including those for older people."
Consultation is under way with service providers to determine what level of service can be provided beyond April 2013."