Abbeydale Picture House plans to become climbing venue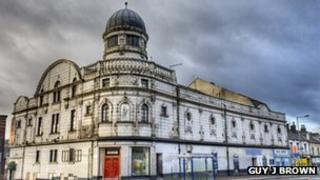 The new owner of a Grade II-listed former theatre and dance hall in Sheffield wants to turn the building into an indoor climbing centre.
The Abbeydale Picture House was bought by Phil Robins at an auction for £150,000 in October after it was repossessed by a bank.
He plans to put smaller walls in the main auditorium and two 65ft (20m) climbing walls in the building's tower.
Mr Robins already owns and runs a climbing wall business in the city.
He said the first phase, construction of 15ft (4.5m) bouldering walls in the auditorium and a cafe, could be completed by the end of the year.
Lots of character
Mr Robins said he was about to submit a planning application to apply for change of use for the building.
He said: "It's a lovely place to be with lots of character".
The upper circle would still be used as a viewing area and there would also be room for a small screen for films to be shown Mr Robins added.
He said he hoped the finished building would be a "community hub".
The venue contains approximately 26,000 sq ft (2,400 sq metres) and has been used as a theatre, dance hall and furniture store since it first opened in 1920.
It was run as an arts venue before being repossessed.