Firm committed to Sheffield Park Hill flats despite debt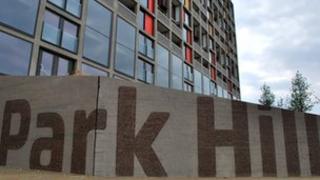 Developers behind Sheffield's Park Hill flats say they are committed to the next phase of the project despite reporting financial problems.
People have started moving into some of the 78 flats after the first phase of the multimillion project was completed.
It comes as developers Urban Splash reported pre-tax losses for 2011/12 of £15.4m, up 64% on the previous year.
The company said it was in discussions with partners and potential funders for the next phase of the development.
In its annual accounts, figures show Urban Splash currently has £242.4m of debt including nearly £207m in bank loans.
'Material uncertainty'
Independent auditor Deloitte warned that a failure to secure new banking facilities "would cast doubt on its ability to continue".
Damian Sanders, of Deloitte, said: "Current cashflow forecasts indicate further facilities are required in the short term while the restructuring is concluded.
"There is no certainty the necessary funding level will continue to be provided, or that a satisfactory restructuring will be achieved.
"These conditions indicate the existence of a material uncertainty which may cast significant doubt about the company's ability to continue as a going concern."
In a statement, Urban Splash said: "We have a strong brand, which is rare in the property sector, and we are hopeful that we can conclude out negotiations with the banks in the next few months, putting the group on a sound financial platform for forseeable future.
"We are also in advanced ongoing discussions with our partners and potential funders for the next phase of Park Hill which is very encouraging."