Help for flood-hit memorial club's new pavilion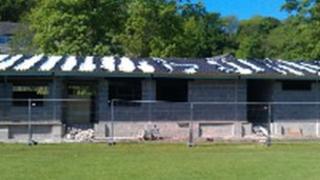 A war memorial sports ground in South Yorkshire, whose pavilion was destroyed by floods five years ago, has been given money to complete a new club house.
Cricket club chairman Chris Lingard said floods in 2007 left the original pavilion at Oughtibridge War Memorial Sports Club unusable.
The club, based at Waterside Gardens near Station Lane, was awarded £61,820 from Sport England last month.
The land was donated as a war memorial ground in 1921 by a local businessman, to be used by the community for sport.
Since the money came through from Sport England's Olympic and Paralympic legacy, Mr Lingard said progress on the pavilion had "picked up pace".
'Borrowing grounds'
The pitch was unusable for two seasons after 3ft of water flooded the ground when the River Don broke its banks in June 2007.
Mr Lingard said about 100 locals and cricket club members had wheelbarrowed 70-80 tonnes of rubble from the pitch.
"We had to completely replace the cricket pitch's batting area," Mr Lingard said. "The outfield we levelled, dried and reseeded but there were suspicions of sewage on the pitch for some time.
"I was borrowing grounds for the rest of the 2007 season just to finish the fixtures.
"It decimated the team. At times we were struggling to get 11 players, let alone 22. The club almost folded."
Building work on the pavilion began in March this year but it became clear more cash was needed.
A Sport England grant of £62,000 topped up the club's existing funds of £136,000, which was made up of a £65,000 insurance pay-out following the 2007 flood, plus £65,000 from the sale of land from the site of the previous Oughtibridge and District Community Centre, and existing war memorial club funds.
Mr Lingard said being able to see the new pavilion take shape was "motivating" for the community and the sports ground.
"It's been talked about for a long time but when people drove past they just saw a car park," he said. "Now there's something to see. It's generating a lot more interest.
"Earlier in the year we had a village rounders competition here," Mr Lingard said. "We want it to be a facility for the community to use rather than a community centre."
The new pavilion is expected to be finished by Remembrance Day on 11 November.