South Yorkshire handed more spending power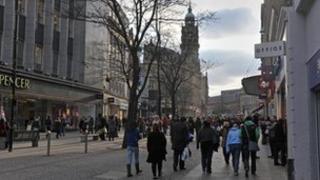 Four South Yorkshire councils are to be given a share of a £700m fund under plans for regions across the UK to be handed more powers.
Barnsley, Doncaster, Rotherham and Sheffield councils will be able to spend the money as they choose.
Councillor Julie Dore, leader of Sheffield Council, said: "Local people, politicians and business leaders can decide how we spend that money."
In return for the cash the authorities must sign up to a series of pledges.
One of the region's main promises is to introduce 4,200 apprenticeships.
At the moment councils running England's major cities have to lobby central government if they want extra money to invest in a major transport scheme or regeneration project.
Ms Dore highlighted digital and media, healthcare technology and advanced manufacturing as industries important to the city's prosperity.
'Big first step'
She said: "We need to have those skilled people for those jobs and we're best placed to do that."
The Sheffield City Region Partnership brings together the nine local authorities Barnsley, Bassetlaw, Bolsover, Chesterfield, Derbyshire Dales, Doncaster, North East Derbyshire, Rotherham and Sheffield.
Nick Clegg, the Deputy Prime Minister and Liberal Democrat MP for Sheffield Hallam, said: "This is a big first step in a major handover of power."
He said thousands of people in Sheffield would be given support to update their skills and get new qualifications.
James Newman, chairman of the Sheffield City Region Local Enterprise Partnership, said: "We can make sure we have a highly skilled workforce which corresponds with the city region's business needs.
"Our transport deal will ensure that our workforce can travel faster, smarter and more efficiently."
John Mothersole, chief executive of Sheffield City Council, said: "The proposals in our deal signal an unprecedented shift in control away from Whitehall."