Casey Kearney stabbing trial: Hannah Bonser's 'calm' confession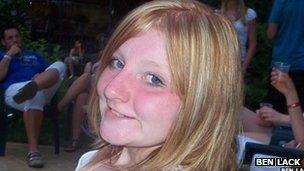 A woman told staff at a mental health charity she had "done something silly" after she fatally stabbed a 13-year-old girl in a park, a court has heard.
Hannah Bonser, 26, is charged with murdering Casey Kearney at Elmfield Park in Doncaster on Valentine's Day.
Sheffield Crown Court heard Ms Bonser, of Cusworth House, Doncaster, went into the offices of the Rethink organisation after the attack.
Ms Bonser denies murdering Casey but admits killing the teenager.
Casey, of Rossington, near Doncaster, was stabbed without warning as she passed the defendant in the park, the jury has heard. She died later in hospital.
Rethink worker Alan Brown told the court that he answered the door to Ms Bonser. "She was calm as could be," he said.
Two knives
He said she asked to speak to his colleague, Tareen Mallin.
But he added that Ms Bonser wanted him to stay because Miss Mallin would not be safe otherwise.
Mr Brown told the jury: "She felt that she'd done something silly and she wanted to speak to somebody.
"She then said that she's stabbed somebody."
Mr Brown said they went back inside the building where Ms Bonser handed over two knives and the police were called.
He told the jury: "She was as calm as could be. She was lucid in her speech."
The court was told that Ms Bonser described herself as "a complete psychopath" about a month before the attack.
Miss Mallin told the jury the defendant stayed in Rethink's crisis accommodation in Doncaster for a week in January.
'Birds evil'
She was shown a log entry for the day before she left which recorded that she had asked to see a doctor to get anti-psychotic drugs.
David Fish QC, defending, asked Miss Mallin: "Before leaving, she (Bonser) said she wanted to be seen by a doctor, wanted some anti-psychotic medication and that her thoughts towards others was such that she was saying that she was a complete psychopath?"
Miss Mallin agreed with the interpretation of the notes.
Later, Hayley Spouse, a friend of Ms Bonser, told the jury she had deteriorated "unbelievably".
She said the defendant developed an interest in druids, "was very hippy" and smoked a lot of cannabis.
The witness told the jury how her friend became scared of birds.
She said she believed they were "flying humans".
"She was actually terrified of crows," Miss Spouse said. "She said they were evil."
Home office pathologist Naomi Carter told the court a single stab wound was the only significant wound found on Casey's body.
She described the extensive steps taken by medical staff to save the teenager's life but that she was declared dead eight hours after she was brought to hospital.
The case was adjourned until Wednesday.