Casey Kearney stabbing trial: 'Hannah Bonser troubled'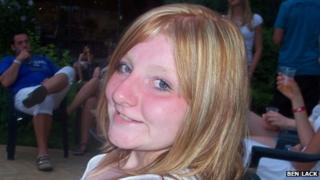 A woman who stabbed a 13-year-old girl to death in a Doncaster park has a troubled history, a court heard.
Hannah Bonser, 26, is charged with murdering Casey Kearney at Elmfield Park on Valentine's Day.
Prosecutor Graham Reeds QC told Sheffield Crown Court that Ms Bonser had previously spent time in a psychiatric hospital.
She denies murdering Casey, who was stabbed walking to a friend's house, but admits killing the teenager.
Mr Reeds told jurors: "In October 2011 she [Ms Bonser] had spent a short time in a psychiatric hospital in Doncaster."
'Odd behaviour'
Three days before Casey's death, Ms Bonser, of Cusworth House, Doncaster, told her friend Hayley Spouse that she was going to kill an ex-boyfriend and threatened to "get anyone else who crossed her", the court heard.
Mr Reeds said the defendant had planned to stab her ex-boyfriend to death because he had made her have an abortion years ago.
Ms Spouse thought Ms Bonser's behaviour had been "odd" since the beginning of summer 2011, the barrister added.
On the morning of Casey's death, Ms Bonser bought two kitchen knives, the jury heard.
Mr Reeds said: "It cannot be known why Hannah Bonser went to the park that afternoon."
Casey, of Rossington, near Doncaster, was stabbed without warning as she passed the defendant in the park, the jury heard.
'No shouting'
Mr Reeds said: "As they approached each other, the defendant pulled out the larger of her two knives.
"As she came alongside Casey, the defendant stabbed her once in the abdomen, causing such severe internal injuries that Casey later died."
He added: "The attack was sudden and caught Casey completely unawares.
"There was no argument, no shouting, there was no warning that anything was about to happen."
After the attack, Ms Bonser carried on walking and left the park, the court heard.
Casey collapsed on the path, bleeding internally, but managed to call 999 on her mobile phone.
"All she could say was that she had been stabbed," Mr Reeds said.
The barrister said after the attack Ms Bonser had gone to the mental health organisation called Rethink and told an outreach worker she had killed somebody.
'Obviously troubling her'
Ms Bonser was arrested but later declined to answer police questions, Mr Reeds said.
The court heard that, in a police interview, Ms Bonser's solicitor said: "She's hearing voices telling her to do things and not to do things.
"It's a bit unclear what the situation is but they are obviously troubling her.
Mr Reeds said Ms Bonser accepted she had killed Casey and said it was likely she would claim the partial defence of diminished responsibility, which would reduce what she did to manslaughter.
But he said the prosecution rejected the claim that the defendant "was suffering from an abnormality of mental functioning which arose from a recognised medical condition".
The case continues.