London 2012: Sheffield shows its support for athletes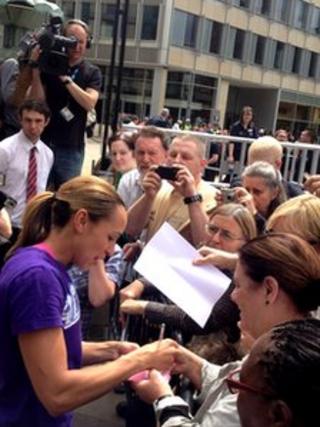 Three thousand people gathered in the centre of Sheffield as 50 British Olympians and Paralympians took to the stage in a send-off ceremony.
The event in the Peace Gardens honoured the athletes, who are either from Sheffield or have trained in the city.
They will now head to their individual Olympic training camps across the UK.
Sheffield heptathlete Jessica Ennis, who trains at Don Valley Stadium and EIS-Sheffield, said: "I just can't believe how quickly it has come round."
She added: "To be here in Sheffield with amazing athletes from the city is great."
Team GB boxer Nicola Adams, table tennis player Paul Drinkall and diver Nick Robinson-Baker were among the athletes at the Peace Gardens.
"It's been an honour to compete in Sheffield and have Sheffield backing me up, not just myself but every other athlete up here," Mr Robinson-Baker said.
Ben Brailsford, Sheffield City Council's Olympic and Paralympic delivery manager, said: "This was Sheffield celebrating the GB athletes from the city that will go to the Games, and those who train in the city who will go to the Games."
The GB diving, boxing, table tennis and volleyball have all been training in the city in the run-up to the Games, as has the British Paralympic table tennis team.
Olympic and Paralympic events and training has brought a £20m boost to Sheffield's economy, Mr Brailsford said.
The Russian rhythmic gymnastic team, the USA diving team, the Brazilian judo team and the Canadian wheelchair basketball team all chose Sheffield as a base.
Training camps for these teams are at Sheffield Hallam University and the Motorpoint Arena as well as EIS-Sheffield and Ponds Forge.