Disabled man campaigns for Northern Rail scooter access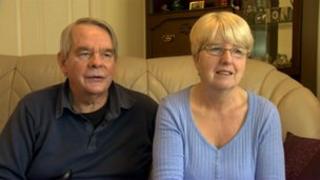 A disabled man from West Yorkshire has called for better access on trains after being told he cannot travel with his mobility scooter.
David and Geraldine Lamb, who have been invited to a Royal Garden Party in May, said they had hoped to travel by train.
Mr Lamb, whose leg was amputated after an accident at work, was told he could not make the journey between Keighley and Leeds using the scooter.
Northern Rail said it could not safely load or unload the vehicle.
Mr Lamb said: "I have two sticks and can't walk so far."
Ground clearance
Despite East Coast providing suitable transport for the couple between Leeds and London, they have found they are unable to travel to Leeds from their hometown using the Northern Rail service.
Peter Myers, head of service quality for Northern Rail, said: "We have extensively researched accepting them (mobility scooters) but they are vehicles.
"We cannot safely convey them on our trains.
"There are many reasons why we can't, not least because of the ground clearance."
Mr Myers said the company would consider providing a taxi to Leeds central station, if a suitable taxi could be found to carry the scooter.
Mrs Lamb said she had written to her local MP Kris Hopkins to raise the issue.
"David is not the only disabled person. It's really got my back up," she said.
"I don't think it should be like this, in this day and age."