Rotherham mobility scooter safety sessions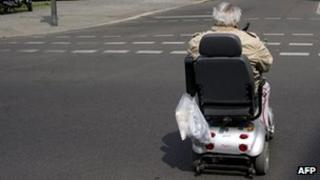 Free lessons on mobility scooter safety are to be offered in South Yorkshire to try and cut the accident rate involving the machines.
The two-hour police course in Rotherham will involve navigating a mobility scooter around everyday obstacles and a theory lesson for users.
In the last five years 17 incidents involving mobility scooters resulted in death or injury in the county.
There were 28 reported incidents in that time with scooters said police.
Life-size set
South Yorkshire Police and Scooter Safe will run the sessions at the Lifewise Centre in Hellaby that has a life-size set of a small town.
PC Mick Hedges said the course would allow people with mobility issues to maintain their independence and increase their confidence riding the machines in public.
Owners will also be told the legal requirements for using a mobility scooter.
No dates have yet been set for the lessons but anyone interested should contact the police.