University of Sheffield 'not banning protests'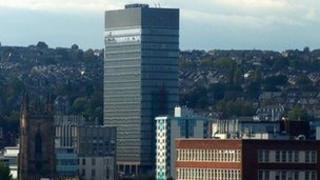 The University of Sheffield has defended a decision to try to remove protesters from a lecture theatre.
More than a dozen demonstrators began a sit-in on 30 November.
On Friday an interim High Court order to remove them, which also bans all protests that do not have permission for a year, was granted.
Protesters claimed the order would ban protests managers did not approve of but the university said it was ensuring other students were not disturbed.
Paul White, pro vice chancellor at the university, said the occupation had been disruptive for staff and other students.
He added: "Legitimate protest can take place through a variety of means. What we seek to do is to ensure that those can carry on alongside the normal work of the university."
Protesters occupied a large lecture theatre at the Arts Tower in support, they said, of strike action by public sector workers.
They have issued a number of demands including the implementation of a "living wage" for university staff and called for vice chancellors at the university to take a pay cut ahead of other employees.
In a statement, Sheffield University Occupation said: "This constitutes an effective ban on all protest at the university of which management does not approve.
"We are still entirely open to negotiations with management but we will not be intimidated by threats of forcible eviction."
Mr White said: "We have had no official communication from them. They haven't approached the university with any demands."
The interim injunction will be reviewed by the High Court on Tuesday.