Med Hughes says South Yorkshire Police is in 'safe hands'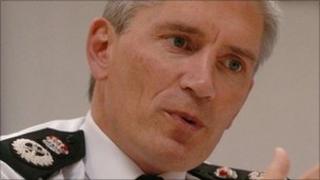 The Chief Constable of South Yorkshire Police said the force would be in "safe hands" after his retirement.
Meredydd Hughes, 53, who became chief constable in 2004, retires on 9 October.
Deputy Chief Constable Bob Dyson will take over as temporary chief constable until a permanent successor to Mr Hughes is appointed in November.
Mr Hughes said if he had done his job correctly then the public "won't notice" his departure.
Mr Hughes has been in the police force for 32 years and has served in Wales, London, Greater Manchester and West Yorkshire.
He joined South Yorkshire Police (SYP) as Deputy Chief Constable in 2002.
Mr Hughes said: "I'm very confident that the temporary chief constable and my command team colleagues will ensure that SYP is in safe hands.
"Changes at the top rarely, if ever, affect the service given to the public and policing in South Yorkshire will continue uninterrupted."
South Yorkshire Police Authority expects to appoint a new chief constable following interviews in November.