Rotherham's Victoria Cross holders remembered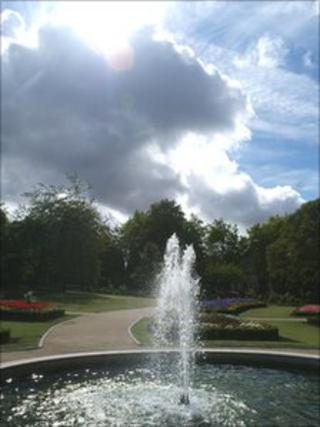 A Rotherham soldier killed in the Falklands War is one of three holders of the Victoria Cross (VC) to be remembered at a ceremony in the town later.
Sgt Ian McKay, posthumously awarded the VC in 1982, is one of just three soldiers from Rotherham to have been awarded Britain's top military honour.
The soldiers' names have been engraved on a new fountain in Clifton Park.
The memorial will be unveiled during a service of dedication.
'Respect due'
Sgt McKay, who was 29 when he died in June 1982, is named alongside Pte George Chafer and L/Cpl Thomas Jackson, who both fought in World War I.
Sgt McKay of the 3rd Battalion Parachute Regiment, was killed while trying to save his colleagues from enemy fire at Mount Longdon in the Falklands.
He secured an enemy position alone, despite being injured, but was killed in the assault.
Sgt McKay was awarded the VC for displaying "courage and leadership of the highest order".
His mother, Freda, who will be at the dedication service, said the memorial fountain showed "respect is due".
She said: "It's very important and I hope it gets the message across to other young people that ordinary people can do extraordinary things."
Heavy fire
Pte Chafer, a member of the East Yorkshire Regiment, won the VC for his efforts during fighting at the Somme in June 1916.
He delivered a vital message despite coming under heavy fire and suffering from the effects of a gas attack.
Pte Chafer survived the war and died in 1966.
L/Cpl Jackson, of the Coldstream Guards, was awarded the Victoria Cross in 1918 after capturing an enemy machine gun post with two fellow soldiers before dying in a German trench later the same day.