M1 in Sheffield and Rotherham could have two artworks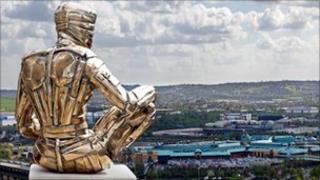 A short stretch of the M1 could have two art installations less than half a mile apart if two councils give the go-ahead.
Sheffield Council said this week it was seeking ideas for a project on the site of the demolished Tinsley Towers and plans to install a £4m art installation.
Local sculptor Steve Mehdi is planning to erect a 40m-high sculpture just metres away, if Rotherham Council grants planning permission.
The site, which is on a hill in Kimberworth, is less than half a mile away from the Sheffield council site, and both can be seen from the M1 Tinsley viaduct.
Rotherham Council said it was "really exciting" project and in principal supported the plans.
Landscape guardian
Sheffield City Council's director of culture and environment, Paul Billington, said he believed "that the two projects can complement each other" and wished Mr Mehdi well with his sculpture.
Mr Mehdi, a former steel labourer, unveiled plans for a privately-invested project titled Man of Steel, which could be twice the height of the Angel of The North in Gateshead.
A life-size version of the Man of Steel was exhibited in Sheffield three years ago in an exhibition on Ecclesall Road and after feedback from members of the public, Mr Mehdi decided to pursue the idea of creating a large-scale version of the sculpture "sitting like a guardian on the landscape".
Mr Mehdi said he approached Sheffield City Council with his proposal in 2008, but it was met with a "lukewarm reception".
A former landfill site on Meadowhall Road in Kimberworth has been earmarked for the home of the Man of Steel. It is expected that the artist will submit plans before the end of the year.
'Missed a trick'
The project, which has been estimated at £3m, will be privately funded and is being backed by various companies, as well as Sheffield, Rotherham and Barnsley Chamber of Commerce.
Mr Mehdi anticipates that the Man of Steel sculpture will be ready by 2013 to coincide with a global manufacturing festival and the centenary of Harry Brearley's invention of stainless steel.
He said Rotherham "embraced the idea" and said "Sheffield has missed a trick" not backing the project.
Sheffield City Council said on Tuesday that is was seeking artists to submit plans for an art installation nearby the M1 at Tinsley.
Paul Billington, director of culture and environment at Sheffield City Council, said: "We believe that the two projects can complement each other but are aiming to achieve very different objectives on different sites.
"The M1 gateway will sit at the heart of the city's next phase of the Lower Don Valley economic strategy and is therefore much more than simply a public art project."
He said the two authorities would keep in communication over the projects.
Karl Battersby, strategic director for environment and development services at Rotherham Borough Council, said: "In principle we thoroughly support a work of iconic art that celebrates Rotherham's proud industrial heritage and future - a worthy landmark for this particular part of the borough."