Doncaster council workers strike over job cuts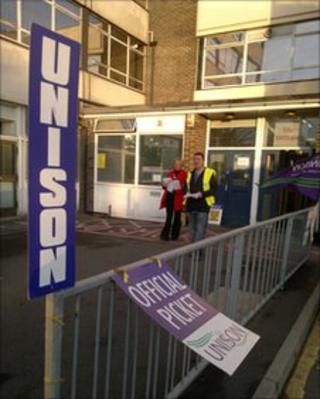 Workers at Doncaster Council have gone on strike in protest at plans to cut jobs and services.
Unison said the proposed 1,000 job losses over the next year, pay cuts of more than 5% and a pay freeze until 2013 were "not necessary".
The council said it was looking to change the terms and conditions of staff pay to make £26m of savings.
Jim Board, from Unison, said up to 2,500 staff had walked out and members were facing "swingeing pay cuts".
It is the second walkout by workers, who also went on strike on 30 June.
Mr Board, Doncaster branch secretary, said: "We've been very clear from the start and we want to send a very, very strong message to Doncaster Council that there will be consequences if they attack the terms and conditions of Unison members and other council workers."
Rob Vincent, chief executive of Doncaster Council, said if the savings could not be achieved then it would have "no option but to look towards front-line services".
He added: "We are disappointed that they have decided to take this course of action just as we are about to enter into formal negotiations with them to seek the best way forward through agreement.
"The council has already saved £30m in 2011/12 and now has to find £26m from its 2012/13 budget.
"Given the cuts we have already made if a significant amount of this, up to £7.5m, does not come from terms and conditions we will have no option but to look towards front-line services.
"No decisions have been made on any changes to terms and conditions and nothing will be implemented until at least April 2012."