Olympic torch nomination for injured para Ben Parkinson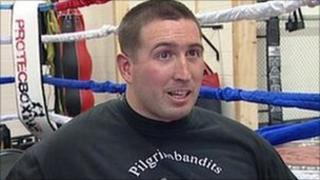 A paratrooper who suffered devastating injuries in Afghanistan has been nominated to carry the Olympic torch.
Lance Bombardier Ben Parkinson, from Doncaster, South Yorkshire, lost both legs and suffered head injuries in a roadside bomb explosion in 2006.
As part of his rehabilitation, the 27-year-old is learning how to walk again on artificial legs.
As a result, his friends have entered his name into the ballot to be an Olympic torch bearer for London 2012.
If chosen, he will be given the opportunity to carry the Olympic flame for one of the legs of the Olympic Torch Relay.
His mother Diane Dernie said: "We're hopeful because Ben would absolutely love it.
"We understand Ben has the same chance as anybody else who's nominated.
"His name was put forward by a few of his friends, people he talks to on Facebook and his solicitor."
She said if chosen she thought he would be allowed to carry the torch over a shorter distance than the usual one mile for torch bearers.
"He's already working out four days a week so he'll be able to carry the torch," said Mrs Dernie.
"He can walk about 50 yards with crutches and it's got immeasurably better in the last few weeks.
"He's got a year until the Olympics so he'd be fine by then."