Doncaster residents angry at 'flood delay'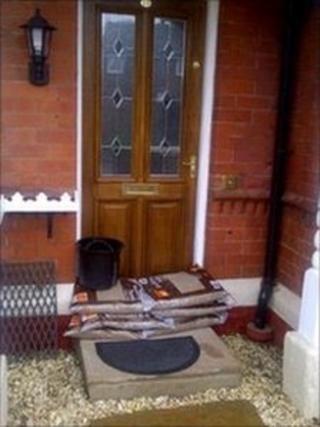 Residents whose properties were flooded in Doncaster after heavy rainfall have criticised the council, saying it was slow to respond.
A number of houses were flooded in Thorne during intense rainfall on Wednesday evening.
Some residents told the BBC they felt angry at the "lack of response" from Doncaster Council.
The council said it only received six calls from residents and that it carried out a number of actions.
Paula Manny, who had moved into her home on Plantation Road four weeks ago, said the flash flooding was "unbelievable".
"It's been horrendous, the amount of water that came down in a short amount of time. The drains couldn't cope with it. I never ever thought I'd be a flood victim."
Ms Manny said the ground floor area of her home was under eight inches (20.3cm) of water at its worst.
Residents said emergency services arrived, providing support, including the fire brigade who pumped water from properties after the flooding on Wednesday evening.
Local people who spoke to the BBC said they had not been given sandbags despite requesting them.
The council said it only received six phone calls from concerned residents who rang to the council's emergency service line to raise concerns of flooding and to request assistance.
'Quality of life'
Dave Ridge, Doncaster north manager at the council, said the emergency planning department instigated a number of actions, including a team of neighbourhood officers being deployed to provide sandbags in the local area.
He said: "The information we received, we were told that there was five to six streets affected by flash flooding. At that particular time we hadn't had reports about water penetrating people's properties.
"We could only respond to the information we'd got."
Resident Lee Steventon lives in Orchard Street which was also affected by flooding.
He said: "We had no response from the council whatsoever. When we phoned for sandbags and the police asked for them, we were told that flash flooding doesn't happen that quick and that it wouldn't penetrate the house."
Doncaster Council, which is led by an English Democrat elected mayor, said it would look at the responses and comments that it had received and deal with them appropriately.
Mr Ridge added: "The quality of life of residents is paramount to us. We will do what we can as a local authority."