Companies fined after man dragged through machine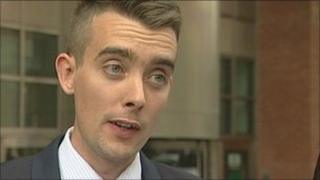 Two companies have been fined a total of £75,000 after a man was dragged through a 5in (13cm) gap in machinery.
Matthew Lowe, 25, broke his back in two places during the incident at Compass Engineering in Barnsley in December 2008.
Sheffield Crown Court fined the company £45,000 for a health and safety breach.
A fine of £30,000 was imposed on Kaltenbach, the company responsible for supplying and commissioning the machine.
Both companies admitted one charge each of breaching the Health and Safety at Work Act 1974 at an earlier hearing at Barnsley Magistrates' Court.
The crown court heard there was "inadequate guarding" around the machine.
'Chocolate fireguard'
Judge Robert Moore said: "This was a very foreseeable accident and it was only a matter of time before it, or something like it, occurred."
He added that some of the safety features on the £300,000 piece of machinery "could be regarded as the equivalent of a chocolate fireguard".
The court heard that Compass Engineering was at fault as it failed to put a guard around the machine which processed steel beams.
It heard that Kaltenbach was at fault for signing off a piece of machinery without ensuring basic health and safety requirements were adhered to.
As well as suffering from a broken back, Mr Lowe ruptured his stomach and bowel, shattered his pelvis and fractured his right arm and several ribs.
Only his head was not dragged through the machinery. He survived, and went on to retrain in a different role.
Lawyers for Mr Lowe said he was left with psychological injuries and still suffered from the effects of injuries to his arm and hips.
Expressed regret
Mr Lowe said: "What matters most is that the industry learns from my experience.
"It still won't be able to put my life back to how it was before the accident, but at least then it might prevent others from suffering in the future."
Both companies expressed regret at the accident and said health and safety was taken extremely seriously.
The court heard £55,000 had been spent on safety features for the machine since the accident.
Compass Engineering was ordered to pay £24,000 costs, and Kaltenbach was ordered to pay £16,000 in costs.