Man rammed by Barrington Hill hit and run driver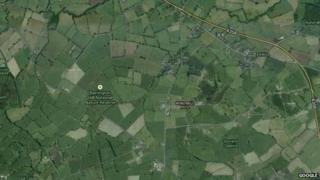 A driver of a car which rammed a passer-by, throwing him into the air and then drove off without stopping, is being sought by police.
The same VW Golf had just forced a cyclist to swerve off the road on Barrington Hill near Ilminster, Somerset, on Saturday morning.
As the passer-by stopped to help the cyclist, the Golf driver turned around, revved his engine and drove at him.
He was tossed into the air and suffered severe bruising and shock, police said.
Paramedics said the victim was lucky not to have been more seriously injured.
Avon and Somerset Police has begun an investigation to find the driver of the Golf, which left the scene and went towards Horton.