Hinkley Point C power station: Grid connection plan submitted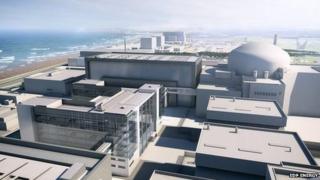 Plans to cable the proposed nuclear power at Hinkley Point, Somerset, to the National Grid at Avonmouth, near Bristol, have been submitted.
The grid connection will see 30 miles of overhead wires carried on pylons and a five-mile section under the Mendips.
Those opposed to the pylons have called for more of the route to be buried.
From Thursday the Planning Inspectorate has 28 days to decide whether the application will go forward to a panel of inspectors.
If the plans are accepted for examination then the documents will become public.
A final decision will not be made until late 2015.
'Fewer pylons'
A National Grid spokesman said it had made the application following five years of consultation.
"When planning this connection, we have been careful to strike a balance between everything we've been told, the guidelines we have to follow and the engineering needed to keep the lights on," he said.
"And, although the new pylons would be bigger than the existing ones, overall there would be 100 fewer pylons than there currently are in the landscape," he added.
The proposed route would connect the station, near Bridgwater, Somerset, to the National Grid's 400,000 volt substation at Avonmouth.
It would also see the removal of 246 pylons and 42 miles of cabling between Bridgwater and Avonmouth, and Nailsea.
Those against the pylons argue the entire route should be underground or sub-sea - but National Grid had previously said this option would be too expensive.