Somerset Levels dredging raises silt-dumping concerns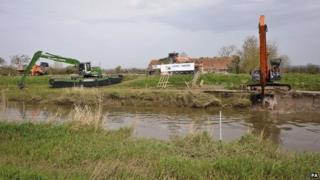 Flood protection dredging on the Somerset Levels has prompted landowners' concerns over where removed silt is being dumped.
Dredging started on the River Parrett a month ago after winter floods.
Several landowners say a lack of notice about it is affecting crop planting and grass cutting plans, Flooding on the Levels Action Group (Flag) explained.
The Environment Agency (EA) accepted the claim and urged those affected to share any concerns with them.
'We need to listen'
Rebecca Horsington, from Flag, said: "I know several landowners who feel that they aren't being given time to consider what crops to put on the ground or what grass to cut because they're not being given enough time or info about what will happen with the silt."
She described one instance where a landowner was told by a contractor that silt was to be dumped on a field where the grass cutting could have been done in advance to improve the condition of the land.
Ian Withers from the EA, said: "Obviously, that's happened but if there are concerns of that nature we need to listen.
"We are absolutely committed that this is a collaborative exercise - it relies on landowners accepting the silt and we very much want to work with them."
So far, 984ft (300m) of the river has been dredged removing 159,000 cubic ft (4,500 cubic metres) of silt.
In March, the government pledged £10.5m to help pay for the costs. So far, half the money has been used for dredging.
The rest will be used to rebuild damaged flood defences and research flooding patterns, using computer software modelling programs.
Concerns raised by the flood group have also been about the pace of the project but the EA has said the project was on track.