River levels expected to rise in Somerset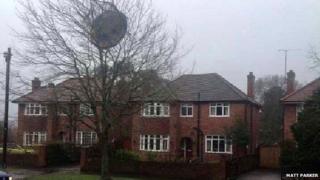 Flood levels are expected to rise in parts of the Somerset Levels, the Environment Agency has said, although no further flooding happened overnight.
Two severe flood warnings remain in place for the Fordgate and Northmoor area as well as the A361, from East Lyng to Burrowbridge.
Storms overnight led to power cuts for about 500 homes in the Taunton area.
Western Power Distribution said it hoped all customers would be reconnected within 24 hours.
Sedgemoor District Council said all travel should be avoided in the Moorland and Fordgate areas, because they are are inaccessible to normal vehicles and 4x4s.
A rest centre at Westfield Church in Bridgwater has been used by 50 households and 85 people so far, a spokesman for the council said.
A third all-terrain vehicle has arrived in Somerset to help villagers in Oath who have been stranded by rising flood water.
David Hall, deputy leader of Somerset County Council, said: "It will help transport Oath residents in and out of the village, where waters are too deep for 4x4s, as well as delivery essential goods.
"We hope it will help the Oath community resume their normal daily lives as much as possible in these extremely challenging times."
A warning about fuel tanks affected by flooding has been issued by Devon and Somerset Fire and Rescue Service.
'Serious incident'
A spokesman said deep flood water could lift Liquid Petroleum Gas (LPG) tanks away from fittings, causing damage which could lead to an "extremely serious" explosion.
Kevin Hardwill, from the service, said: "We realise that people affected by flooding have got a lot to deal with at the moment, but we are giving this warning because there is a risk of a serious incident occurring.
"We would urge people to check that tanks or containers attached to their homes or on their premises are secure."
There is also a risk that tanks containing heating oil could cause pollution.
About 65 sq miles (41,600 acres) of the Somerset Levels have been flooded for several weeks.
So far 97 properties have been affected and about 100 people forced out of their homes.