Somerset flood appeal raises £200,000 in a month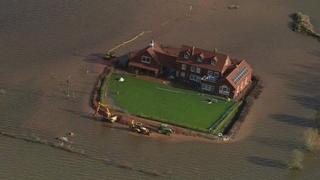 An appeal to raise funds for victims of the flooding in Somerset has collected more than £200,000 in a month.
Somerset Community Foundation, based in Shepton Mallet, appealed for the cash to "relieve the immediate hardship" of those affected and "support recovery".
The Somerset Levels have been besieged by flood waters for over a month.
Mary Hancock, from the foundation, said with a "significant amount coming from outside the community" a new appeal target of £250,000 had been set.
About 150 properties in the villages of North Moor, Salt Moor, Fordgate and Moorland have been affected by flooding, according to Somerset County Council.
"We just don't know the scope of the situation," said Ms Hancock.
"With all of the publicity that we've had down here in Somerset, it's going really well and the national community has really come forward with financial support.
"But it really is local residents and charity groups that have come together to do fundraisers for us - and all that activity is adding to the total."
'Overwhelmed with stuff'
Meanwhile Sedgemoor District Council and volunteer organisations say they have been "overwhelmed with stuff" and "don't need any more at present".
A council spokeswoman said donations of food, drink and other supplies had been "pouring in" and they "do not want anything to go to waste".
"The message is - thank you so, so much, we really don't need any more at present," she said.
"Obviously, as the emergency is likely to continue for the immediate future, stocks will need to be replenished."