Bath Magazine apologises over Boston marathon bombings copycat image
29 January 2014

From the section

Somerset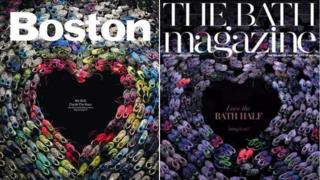 A magazine says it is "truly sorry" for copying a cover published in tribute to the Boston marathon bombing victims.
The Bath Magazine printed its version of the famous Boston magazine cover, which features running shoes in the shape of a heart, to promote the British city's own half marathon.
After the copycat cover was unveiled, Boston magazine's SI Rosenbaum tweeted: "Hey Bath, who died in your marathon?"
Three people were killed and about 260 injured in the attack last April.
In its tribute to them, Boston, a monthly magazine covering life in the US city, printed its now famous cover showing the running shoes in a heart shape with the message: "We Will Finish The Race".
The Bath version shows a very similar image but its front page slogan reads: "Love the Bath Half".
The free magazine has been accused of being disrespectful of the victims of the Boston terrorist attack, and of plagiarism.
Dave Mouncey, from Bristol, who ran in the Boston marathon last April, said: "I can't believe they copied it so exactly when the Boston magazine is associated with tragedy and people losing their lives."
He added: "The atmosphere that day went from being a happy place - a public holiday - to one of shock and disbelief, to a dark moment in the city's history."
The Boston magazine, which says its cover helped it raise more than £75,000 ($125,000) for the One Fund, a charity to help those affected by the bombing, has published a response to the Bath Magazine.
'Borrow the spirit'
"You liked the shoes cover so much that you borrowed (others have used less charitable phrases) the concept for your February issue on the half marathon in Bath," Boston wrote in the open letter.
"We can't speak for the dozens of runners who donated their shoes to us for that image. We can't speak for the runners who are preparing to run this April.
"But we hope that if you were so bold as to borrow our idea, you will also borrow the spirit of that cover and make a significant donation to the One Fund in the name of those who were unable to finish the race."
Bath Magazine publisher Steve Miklos said of the cover image that there had been "an error of judgment by not fully realising its connotations in the States".
In an open letter to the Boston magazine, Mr Miklos apologised "from one community to another" and asked the US publication to accept that "our intentions were well meant".
He also said the British magazine would be making a contribution to the Boston One Fund.
Earlier the Bath Magazine tweeted to say: "We are truly sorry and embarrassed for what has happened."
The director of the Bath half marathon, Andrew Taylor, endorsed the apology and said, as a mark of respect, he had "removed reference to the magazine cover from our own social media".