River death man named as student Christopher Taylor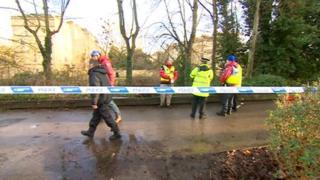 A man who died after getting into trouble in the River Avon has been named as University of Bath student Christopher Taylor.
Police were called to Pine's Way in Bath on Thursday and managed to shout to the man but were unable to get to him before he went under again.
The 21-year-old chemistry student's body was found later that morning.
His family described him as a "wonderful son and brother" and said his death had left them "devastated".
Improve water safety
A spokesperson from the university said: "Chris was a very popular student as well as an enthusiastic and energetic part-time tennis coach at the Sports Training Village.
"Our thoughts are with his family and many friends at this very difficult time.
"We know that Chris' death will have affected colleagues and friends on campus and we are offering a range of support to students and staff who need our help."
Mr Taylor's death is the fourth river fatality in the city in recent years following those of University of Bath student Kharunigan Jayanatham; graphic designer Casper Flagg and Bath Spa University student James Bubear.
Last year, an 850-yard fence was installed along a stretch of the river in an attempt to improve water safety.
The fencing was one of the recommendations of a safety review carried out following the deaths.