Ian Liddell-Grainger demands government action over flooded Somerset Levels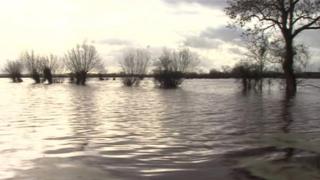 Urgent government action is needed to alleviate the flooding crisis in Somerset, a local MP says.
Ian Liddell-Grainger, the Conservative MP for Bridgwater, wants about £4.5m to be made available to the Environment Agency to dredge the Rivers Tone and Parrett.
He has told MPs in Parliament that the situation is "unacceptable".
Mr Liddell-Grainger will also accuse the Environment Agency of exacerbating the problem by neglecting the rivers.
Bigger rivers needed
"It is not acceptable that the people, year-in-year-out in that entire area of the Levels, are yet again facing more problems," he said.
"And really quite honestly the government needs to act and pretty damn quickly," he added.
Mr Liddell-Grainger said the rivers needed to be made bigger so they could hold more water - and believes they are 40% below capacity.
"Places like Sedgemoor District Council have had to vote [for] £50,000 extra of taxpayers' money just to have emergency relief like sandbags for people," he said.
"At this precise moment something like 12% of Sedgemoor is under water and that doesn't include Taunton Deane or South Somerset.
"So therefore we really are in a dreadful position and the Environment Agency is responsible.
"They cannot walk away from this - they have got to do the job they were set up to do which is keep people safe."
Robbie Williams, from the Environment Agency, said Mr Liddell-Grainger's take on the solution was too simplistic.
"If you lower the beds you increase storage in the river - [but] that's tiny compared to the floodplain so lowering the bed often does little," said Mr Williams.
"It is a contribution but not the whole answer.
"And with the rivers so full and high, the vast majority of our pumps are not able to pump - if we were to push more water into the rivers the people of Westonzoyland (for example) would most definitely be flooded.
"At this point right now it's not about greater pumping capacity."
Mr Williams said a "huge amount" had been done, with some 40,000 properties protected from river flooding and 60,000 from the sea.
But he admitted that an "intelligent and widespread solution" was needed.
Mr Liddell-Grainger said he had the support of his fellow Somerset MPs for the adjournment debate, which will look at the cost of the Somerset floods to local authorities.