Flood-hit village of Muchelney gets supply boat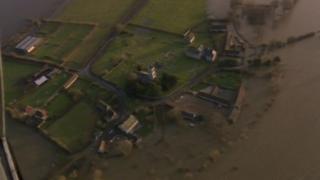 A flood-hit village on the Somerset Levels has been provided with a "humanitarian" boat.
More than 100 residents of Muchelney have been cut off since last Friday because access roads are under water.
A support boat run by the fire service and provided by Somerset County Council is to start operating on Friday.
It is hoped the eight-seat vessel will be able to make three trips a day to and from the village, taking food, medicines and other supplies.
A council spokesman said it will be mostly for "humanitarian" use, and priority will be given to people with health or social care needs.
Councillor David Hall said they had "moved as quickly as possible to provide this boat".
"We have seen many people hit very hard by these floods. They have been described as once-in-100-year floods but we have seen serious flooding now in the same areas for two years in a row.
"We are working hard to support people and communities as best we can while operating under our own very challenging financial situation."
The boat will be run by a crew from Devon and Somerset Fire and Rescue Service.