Bath public toilet could become a wine bar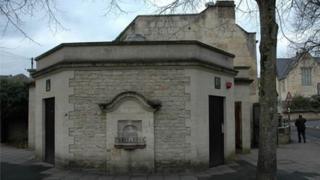 A public toilet threatened with closure in Bath could be turned into a wine bar if the proposals are accepted by the council.
Two independent councillors came up with the idea to keep the Larkhall Square loo open and said the council had "agreed in principle".
The building would include a unisex toilet available for public use.
Bath and North East Somerset Council (Banes) said a private contractor would be responsible for maintaining it.
'Water into wine'
Councillors Dave Laming and Bryan Chalker devised the plan after the building had been earmarked for closure to save money.
Mr Chalker said: "The idea is to turn water into wine. I think the council will put some money towards it, it's a really viable proposal."
The council had originally planned to stop funding 14 of the city's 27 public toilets to save £120,000, but was forced into a U-turn in September by opposition from politicians and the public.
After a debate triggered by a 2,800-strong petition, it was agreed that no toilets should be closed unless other provision was made available.
Banes has said the long term future of the toilet in Larkhall - along with 26 other public conveniences in the city - would be part of the budget for 2014/15 and would be considered by the council in February.