Taunton Brewhouse Theatre could be reopened by community group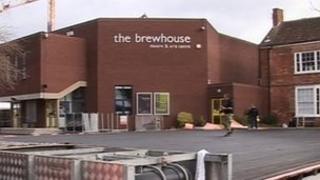 A theatre which closed after its financial position became "untenable" could be reopened by a community group.
Taunton's Brewhouse Theatre closed in February and since then, leaseholder Taunton Deane Borough Council has asked for expressions of interest to run it.
A spokesman said the authority had agreed that the Taunton Theatre Association (TTA) was the "appropriate group" to take charge of the venue.
Councillor Jefferson Horsley said it would now reopen "in due course".
He said the authority had asked TTA to "go back and reconsider some aspects of their business case and undertake a more robust examination of the artistic content and other factors".
He added that the terms and conditions of the lease had been "too restrictive" for the group and that, as a result, the council had offered them "more flexibility".
The not-for-profit organisation was set up after the closure of the Brewhouse and has been the only group to come forward.
A TTA spokesman said it had worked with the council and independent consultants to "ensure its proposals are financially sound" and the group was certain it could "provide the best possible cultural offer for Taunton".
The recommendation by the council's scrutiny committee that the group take control of the venue is still to be considered by the authority's executive but councillors are hopeful it will be given the go ahead.
The theatre will be reopened for a week from 3 December for a school production of the musical Cats, which Mr Horsley said would act as a "dummy run" to see how ticket sales fare and gauge the response of local people to the theatre.