Fears for future of lifeboat station on Birnbeck Pier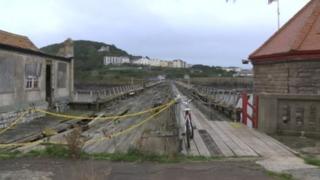 The RNLI has said it may have to leave its base on a derelict Victorian pier in Weston-super-Mare as it is concerned for the safety of its crews.
The lifeboat station is located on an island at the end of Birnbeck Pier which is on English Heritage's Buildings At Risk register.
Glynn Hayes from the RNLI said: "Quite simply the pier could fall down."
A spokesman for North Somerset Council said it wanted "very much to see the restoration" of the structure.
'Substantial investment'
Mr Hayes added: "When the winter storms come, it is possible that the pier will actually collapse.
"I can't tell how likely that is but we have to be prepared for that because our role, our duty is to provide a life-saving service to Weston."
Birnbeck was bought by developers Urban Splash in 2006 - it is believed they are still in negotiations to sell it to CMN Estates.
Wahid Samedy, of CMN, said he "fully shared the frustrations" of the RNLI.
He added that repairing the pier required "substantial investment" and was thought to be "at least in the region of £10m or more".
The RNLI said it was inspecting the structure every two weeks to ensure it was safe for the staff who need to cross the pier to get to the boathouse.
Divisional manager Nigel Jones said they had been "patching up the pier" and had constructed a 5ft (1.5m) wide walkway for "personnel access".
'Suitable temporary location'
Local MP John Penrose said repairing the pier was "a race against time".
He said: "The state of the pier is bad and is getting worse.
"While I'm sure the RNLI can find somewhere else in Weston, nobody wants them to move in the first place."
The council said it wanted to "secure the continued active presence of the local RNLI station".
A spokesman added: "But in the meantime, if the current arrangements are judged to be unsuitable for this much needed and valued service, we will work with the RNLI to find a suitable temporary location for their operations to ensure the safety of their volunteer crews."