Staplegrove village 1,500 homes exhibition held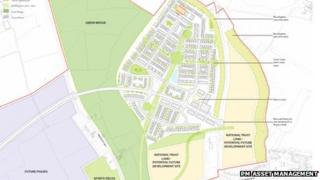 An exhibition has been held over plans to build 600 homes over the next 25 years in a Somerset village.
PM Asset Management held the event on behalf of the landowners to show how land at Staplegrove, north of Taunton, could look with new homes.
Taunton Deane District Council has earmarked between 500 and 1,500 homes for the village in its local plan.
But some residents have said the homes were "totally unnecessary" and would lead to more congestion on local roads.
Growing village
Resident Sue Case said: "There's been substantial development in Taunton and I really don't see the necessity to develop around Staplegrove."
Part of the plans also involve linking Staplegrove and Kingston Road.
Senior planner Gaynor Parkinson, from the firm, said the plans were in the "very early stages" of the consultation process and nothing was "set in stone".
The first phase of the development is expected to take place over the next seven to 10 years.
No developer has been found for the new homes at this stage, but land surveys are taking place ahead of future building work.