Highbridge and Burnham railway deaths 'not linked'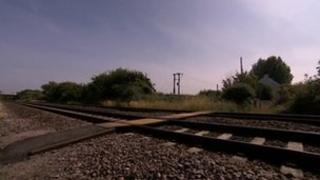 The deaths of two men found near a Somerset railway station are not believed to be linked, police say.
The bodies of both men were found near Highbridge and Burnham station last Thursday and Friday.
One man, 34, had been hit by a train on the Springfield Road foot crossing. The other, 39, was discovered behind a building.
British Transport Police (BTP) said both deaths were being treated as unexplained at this stage.
The family of the 34-year-old man, from the Burnham area, has been informed. He was struck by a train at about 17:40 BST on 11 July.
The second man was homeless but believed to be living with friends in the Burnham area. His body was discovered by police at about 10:40 BST on 12 July.
Det Insp Andy Irwin-Porter, of BTP, said: "At this stage, as far as we are aware, there does not appear to be any connection between the two deaths or the two men involved.
"However, inquiries are ongoing to establish the full circumstances leading up to both incidents and we will be keeping an open mind while we continue to gather information."