Destroyed Priddy sheep hurdle store rebuilt in time for festival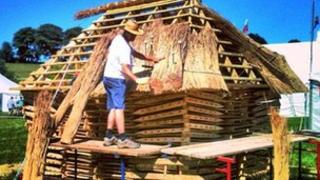 A historic landmark in Somerset that was destroyed in an arson attack in April has been replaced.
The sheep hurdle stack on Priddy Green has been used to hold sheep hurdles for the annual sheep fair, which takes place every August.
It was moved to the village from Wells in 1348 because of the Black Death.
Priddy Parish Council said the hurdle stack was being rebuilt in time for an unveiling ceremony on Sunday at the Priddy Folk Festival.
Parish clerk Alan Butcher said: "We're quite pleased that we managed to get it back up fairly quickly. Hopefully it will be finished by the weekend."
The hurdle stack stores 130 hurdles and cost about £6,500 to replace.