Yeovil District Hospital's ambulance delays tackled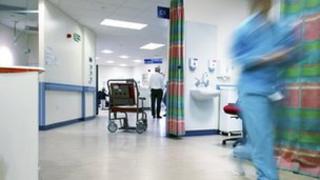 Efforts have been made to tackle delays in ambulance handovers at A&E at Yeovil District Hospital.
Delays of more than 30 minutes peaked in February on more than 50 occasions causing queues outside the hospital.
During the past financial year, the hospital was fined £24,000 by the South Western Ambulance Service NHS Foundation Trust for delays.
The trust said "significant improvements" had been made to tackle the problem of delays.
Chief executive Paul Mears, said: "[This has been] to make sure all patients are moved off the ambulance trolleys into one of our bays as quickly as possible.
"We now have the lowest ambulance turnaround times in the south west - on average our patients are handed over from the ambulance crews to our nursing and medical teams within 10 minutes of arriving at hospital," added Mr Mears.
'Reduce handovers'
Changes to staffing and assessment of frail patients have been brought in.
The arrival area has been moved closer to the front door, with access improved for ambulance trolleys.
Chief executive of the ambulance trust, Ken Wenman, said: "We are working extremely hard with our partner organisations to address these problems and a number of measures are in place to reduce handovers.
"For example we have an ambulance officer working directly in the Emergency Department of a hospital to assist in the management of patients during the handover process to enable crews to return to the road more quickly."