Bath busker apologises for verbally abusing 'loud' rival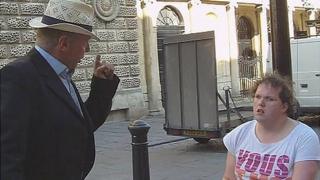 Video showing a busker in Bath verbally abusing a fellow performer for being loud and "spoiling" his performance, is being investigated by police.
Gary Millhouse was filmed near the Pump Rooms swearing and threatening a singer for drowning him out with an amplifier.
The footage was posted on YouTube and has been seen by about 2,500 people.
Mr Millhouse said: "I've had death threats, people want to smash my face in - but it was unacceptable and I'm paying the price now."
The two-minute video shows the singer's performance being cut short by Mr Millhouse - a classical guitarist - who is seen swearing and shouting at the man and threatening to "ram that thing down your throat" if he continues to sing.
The original footage of the young singer, described as "disabled" by the person who uploaded it, has since been removed from the video sharing website.
A spokeswoman for Avon and Somerset Police said the incident was being investigated following a complaint from a member of the public about the footage of Mr Millhouse.
'Help him improve'
But following widespread condemnation, Mr Millhouse has admitted it was "unacceptable" and that he lost his temper.
"I just feel so bad - when I got back to finish my performance - I just felt so bad and I wanted to go back and apologise but it was too late the damage was done," he said.
"I'm not an angry man - it's unlike my character but how can I say sorry enough for him to forgive me?
"If he wants to come and play music, he's more than welcome to come and join us and we'll help him - we'll tell him where to go, how to play and we'll even help him improve his sound so people can enjoy it."
According to councillor David Dixon, from Bath and North East Somerset Council, buskers are asked each morning to meet up and "decide which pitches they're going to go to".
"I think that's where the frustration between some other buskers has come from," he said.
"We don't really have licensed pitches and no one really pays to busk in Bath and there's no magic room where we push a button and say you're good enough or you're not good enough."
'Bullying postings'
But Jeremy Broun, who runs the Bath Buskers Guide website, said the "lynch mentality" was "out of proportion".
"I spent most of yesterday removing obscene, threatening and quite bullying postings," he said.
"Gary's already paying the price, it was in the heat of the moment, it was a terrible thing he did but let's move on."
A police spokeswoman said they asked people to be careful about what comments they left on social media sites.
"We understand this video is upsetting but you could be committing criminal offences by encouraging people to take action against others," she added.