Somerset's Large Blue butterfly slowed by cold spring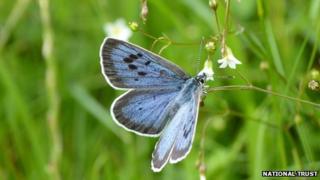 The first Large Blue butterflies at a Somerset nature reserve have begun emerging a month later than normal, the National Trust has said.
Last summer about 50,000 eggs were laid at Collard Hill but the cooler spring temperatures slowed down their metamorphosis.
Ranger, Ian Clemmett, said despite the late start they hoped for another good year building on previous years.
The caterpillars pupate in ants' nests before they crawl out as butterflies.
Caterpillar con
Mr Clemmett added: "With so many eggs laid despite the poor weather last year there's a strong chance of a bumper year but it will all come down to the unpredictable element of how the underground caterpillar food - ant grubs - faired during the winter."
Eggs are laid onto wild thyme flowers and then drop to the ground once they hatch.
As larvae drop to the ground, they trick ants into thinking they are lost ant grubs and are carried into ants' nests where they munch up ant grubs.
After pupating they crawl out for a flight season which normally lasts for about a month.
The Large Blue was re-introduced to the Somerset site in the summer of 2000 and the first successful flight season was the following year.
The reintroduction is part of the Centre for Ecology and Hydrology's Large Blue Project.
Collard Hill is one of 25 Large Blue sites in south west England.