Glastonbury Festival 2013: Music fans start pitching tents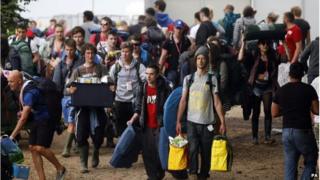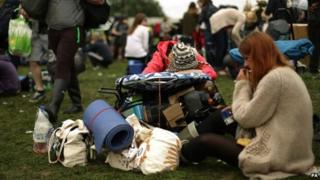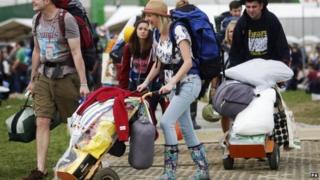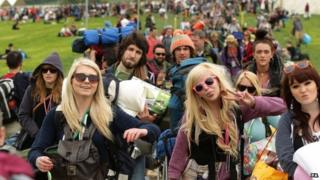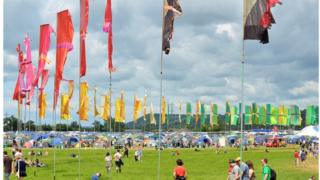 The UK's biggest music festival is due to get under way in two days' time, but for thousands of music fans the race to pitch their tents is now in full flow.
This year's headliners at Glastonbury are the Arctic Monkeys, The Rolling Stones and Mumford & Sons.
Revellers have been hauling boxes of alcohol and camping gear as they trundle to their chosen camping spots.
Police made their first arrest of the festival when suspected drugs were found inside fruit pastille sweets.
Some 175,000 people will attend the festival in Somerset with an estimated 20,000 of them expected to arrive by coach or train.
Earlier, former Oasis frontman, Liam Gallagher was seen arriving at Castle Cary - the nearest railway station to Pilton.
He is rumoured to be playing a set with his band Beady Eye.
'1,000 acres of creativity'
Unlike previous years, the weather for the next few days is expected to remain fairly settled - although some drizzle is forecast for Friday.
Glastonbury founder Michael Eavis said he believed the weather, combined with the line-up, means this year's festival will be "unusually good".
"The whole thing is fantastic," the 77-year-old farmer said. "There are 1,000 acres of creativity on a massive scale and to a very, very high standard.
"You won't see anything else like this in the whole world."
Other highlights this year will be appearances by Primal Scream, Nick Cave and the Bad Seeds, Professor Green and Dizzee Rascal.
Although the Wombles will not be returning to the stage, some of the more unusual acts over the next few days include Sir Bruce Forsyth, country star Kenny Rogers and the Dalai Lama's Tibetan Monks.
'Determined air'
Speaking about the buzz among those arriving for the festival, BBC reporter Sam Read said: "I was chatting to some people who turned up at the car parks last night and they were just in a mood to have a good time - they'd come from all over the place.
"They'd travelled a long way just to sleep in a field - with no tents as they weren't allow to put them up."
He added that people had a more "determined air" as the gates opened ready for them to pitch their tents in their favourite spots for the next four days.
Traffic has been flowing steadily along the main roads into the 900-acre festival site, at Worthy Farm, near Pilton.
Ch Insp John Holt from Avon and Somerset Police said: "The event organisers are doing all they can to get people into the festival as quickly and as safely as possible."
He added people should also consider routes other than the A361.
He said: "The majority of people have been using satellite navigation and coming off the M5 - we would stress that there are other routes down.
"The A37 is actually pretty clear and the A39 - so there are other options."
The police have estimated traffic will remain busy for the rest of the day and into Thursday. Monday will also be another busy day as people make their way home.
Glastonbury is returning after a one-year hiatus in the Olympic summer of 2012. During the one-year break, Mr Eavis grew wheat on the festival fields.